9 Household Items to Create a Flourishing Organic Garden
Last updated: October 15, 2016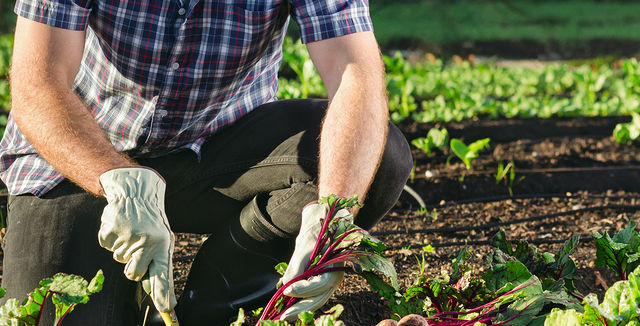 Having an organic garden is a lot easier than one might originally think. With just a little bit of research and using a few household items lying around your home, you can have a flourishing organic garden. The best part is not only will it not break the bank, but it might even save you some money.
Here are 9 common household items that you, most likely, have lying around your home that you can add to your organic garden to help it flourish.

Household Containers and SeedStarters that won't cost you a dime
With just a little bit of creativity and maybe a quick Pinterest search, you can come up with endless ways to use everyday items around your home as seed starters and containers. The best part is that these containers will not cost you anything. Here are a couple of example:

Eggshells – Yes, just go ahead and plop some starter soil down into a partially cracked eggshell and add your seeds. Plant these babies right into your garden and watch them flourish.
K-Cups– My family just recently got a Keurig. We are loving the ease of a nice quick cup of coffee, but a little thrown back how to handle all the plastic cups that are left behind. We have invested into a reusable k-cup, but on occasion will use a plastic k-cup. Countryliving.com said it so well, "Just because they are disposable doesn't mean they are trash." Disposable K-Cups can make great seed starters
Egg Cartons – Do not throw that egg carton away. The multiple compartments make them a great option for seed starters. The best part is that you can plant them back directly into the ground.

We are sure that with a little bit of thought, you can find your own seed starter container right there in your house. No need to spend any money.

Aluminum Foil
Who doesn't have aluminum foil in their kitchen? It's a classic household item that has some great uses. This one though might surprise you. Hang Aluminum foil from your fruit trees and it helps ward off birds from eating your amazing fresh fruit. If you are finding that slug and insects are a problem in your garden, you can place strips of foil around your veggie garden and it will help ward them off.
Beer
Yes, folks, you read that right, beer. One more organic way to help ward off those pesky slugs is by placing a beer in a shallow container near your garden. You will want to sink the container in so that the lip is at ground level. The beer will attract snails and slugs and they will fall into the container and drown. If you do not have a beer lying around, you can use water and add yeast to it. It will work the same way.
Dryer Sheets
Are you having a party and concerned that the mosquitoes and yellow jackets might put a damper on your party? Place dryer sheets around the area and it will help to deter them away from you and your guests.
Epson Salts
This might not be something you have lying around your home, but if you're into organic gardening, it might be something you want to "invest" into. This is an effective and cheap foliar fertilizer. Epsom salts contain sulfur and magnesium and are like a mini vitamin for your plants. Dissolve 3 Tbsp. of Epson salts in 1 gallon of water. Mist your plants as a foliar feeding.
Aspirin
Not only does aspirin help take our headaches away, if fungus problems are giving your plants aches, give them a dose of aspirin. Dissolve ¾ of an uncoated aspirin table in 1 gallon of water. Spay plants ever 2 – 3 weeks with the mixture to prevent fungus problems. Aspirin has also been known to help some plants yield more fruit then using commercial fertilizers.
Banana Peels
Before every soccer game I used to played growing up, I tried to eat a banana. They are filled with potassium, phosphorous, and magnesium which helped give me a boost and prevent leg cramps. These also happen to be in the peel of the banana and can be a great boost for your roses. Before planting a new rose bush, bury your banana peel to help get them off to a great start. You can add them again to the soil to add added nutrients all summer long.
Crushed Eggshells
Eggshells are packed with calcium and will be an effective organic option to give your garden a nice boost. Plants need calcium for proper cell growth. After a season or so of gardening, you will notice that plants will suck all they can out of the soil. If they need it, their roots will take it in. That can leave your soil weak and in need of good compost. Eggshells are just one example of a way to add an extra boost to your soil. Help your plants not to have to work so hard to get the nutrients they need to thrive.When you place eggshells into your soil, be aware that they can attract unwanted animals into your garden. You can choose to compost them or to wash them well and mix them into the soil well.
Coffee Grounds
Do not throw those used coffee grounds away. They are filled with nitrogen. When sprinkled in your garden, the grounds will act as a mild, slow-releasing fertilizer according to CBS.news.com.When you apply the coffee grounds, spread them thinly around the garden to avoid big clumps that can get moldy. Or you can choose to place them into a compost first and their effectiveness will grow.

Before you place coffee grounds, check to see what types of nutrients they might need. Some plants don't seem to do well with the acid that is found inside the coffee grounds, but vegetables and conifers typically do.  Buying a soil test kit can help give you a better idea of what your soil I missing and which nutrients you might want to add.
Organic Garden: You Can Do It
Organic gardening is so much fun. Growing amazing vegetables and flowers knowing you are not adding anything that might be harmful to them, to you, your family, and your neighbors can make you feel great. It does not have to be hard. In fact, using these 9 different household items are just a few options to help get your garden flourishing all summer long.