6 Of The Best Indoor Conservatories in The United States
Last updated: November 28, 2016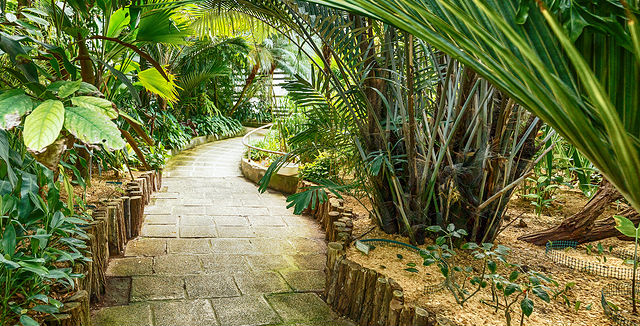 Winter is definitely coming. For many people in the United States, the leaves have already dropped from the trees and snow has made it's presence. While the approaching holidays are a great distraction from the passing of fall, it can still be disheartening for many people who love all things green and warm. If you are feeling the winter blues coming on, we have your cure – visit your local indoor conservatory.

Throughout the country. there are places that allow you to walk into a tropical rain forest, explore endangered plants, and discover medicinal plants in the heart of winter. In addition, the warm temperatures alone are enough to cure any winter blues that you might be experiencing. Also, a conservatory is a great way to see how other people landscape so that you can gain great ideas. Of course, visiting your local conservatory is an amazing way to enjoy your winter months.
What are Indoor Conservatories?
A conservatory is a room with a glass room and walls that are typically attached to a home on one side. In addition, the warmth acts like a greenhouse allowing for many tropical plants to flourish. Also, there are a number of botanical gardens and indoor conservatories located throughout the country. Each one offers the opportunities to explore exotic plants that one does not normally have the opportunity to view. Many conservatories are run by donations or memberships.
Here are 6 of The United States Best Indoor Conservatories to Check Out:
This huge Victorian-style conservatory has a number of fixed and temporary exhibits throughout the year. The Winter Flower show along is a stunning event that draws people from all over the country. Starting on November 25th, you will have the opportunity to see the gardens all lite up with holiday lights. Therefore, there will be exhibits that feature topiary penguins, bears, and reindeer showcased through LED lights. In addition, fir trees, poinsettias, amaryllis and more will be ablaze with lights. This is an incredible event to take your whole family.
In addition, you will have the amazing opportunity to learn about Pittsburgh's history through the Garden Railroad. The model locomotives take you on a journey through 200 years of the cities more memorable memories.
The Longwood Garden boasts a 4.5 acres glass-topped structure that offers over 1,000 acres of greenery. Once a piece of the DuPont family empire, it was a one point a private estate. Indoors, you will find grand views and tranquil initiate spaces. Of course this garden invites all to linger, explore, and be inspired.
The Chicago winters can be brutal. The Garfield Park Conservatory is a hidden gem is tucked away on the west side of the city of Chicago. The garden is a sure fire way to warm up anybody's winter blues. Inside you will find acres of tropical garden, hidden pathways that wind to orange, papaya and banana trees.
Also, there is an entertaining children's garden that teaches about plant growth and has a fun indoor play area. Multiple rooms showcase different plants such as: ferns, rain forests, and dessert plants. In the fern room, you will find a huge pond filled with Koi and gold fish and even a little waterfall. The pond is surrounded by an amazing fern garden in shapes and sizes that will stun you. The admission to this treasured place is free and runs on donations.
Found in the heart of the Bronx, you will find a lovely green hideaway in the New Yrok Botanical Garden. This 110-year-old conservatory is stunning all year long. You can't miss the Holiday Train Show. From November 19th 2016 – January 16th – 2017 you will have the opportunity to watch over 150 landmarks of enchanting model trains as they toot their way through the Haupt Conservatory. This will be their biggest train show ever. In addition, the Haupt Conservatory will have a world of plants to discover. Guests are given the opportunity to discover tropical rain forests and rare flowers.
Built in the 1930s, this winter escape is stunning national garden. You will find yourself stepping from winter into a warm and tropical paradise. It will warm you up and inspire as you are surrounded by stunning landscape. Inside there are many different rooms filled with plants from all over the world. There are plants from tropical rain forests, to Hawaii, to world deserts, and even the check to check out medicinal plants.
In addition, this amazing conservatory gives you the opportunity to explore Mediterranean plants, as well as, rain and endangered species. You will definitely be wowed by this amazing place.
Located in Grand Rapids, Michigan, this place has so much to offer it will blow your mind away. Additionally, there is a Railway garden, Chrysanthemum wall, and a caterpillar Room. Furthermore, an African, Asia and Middle Easy display to name a few.
The Fredrick Meijer Garden is an incredible way to enjoy beautiful greenery with some added art in your winter months. While this place is amazing all year long, you will not be disappointed as you step in from the snow to warmth.
Wrapping Up
When it comes to finding inspiration, stunning views, and tropical paradises, you do not have to look to far this winter. While visiting an indoor conservatory might not be the first thing that comes to your mind, it will definitely be a great option this winter. Each location has amazing aspects to offer all year long.
There is something healing and powerful about surrounding yourself in a room filled with stunning plants. You will find yourself forgetting the frigid temperatures outside. These are just six of some of our favorite conservatories that are located throughout the nation.
Check where you live and find one that is close to you. If you find a conservative or have visiting one in your area, please share with us below. We would love to hear more about other indoor conservatories that can help chase the winter blues away.