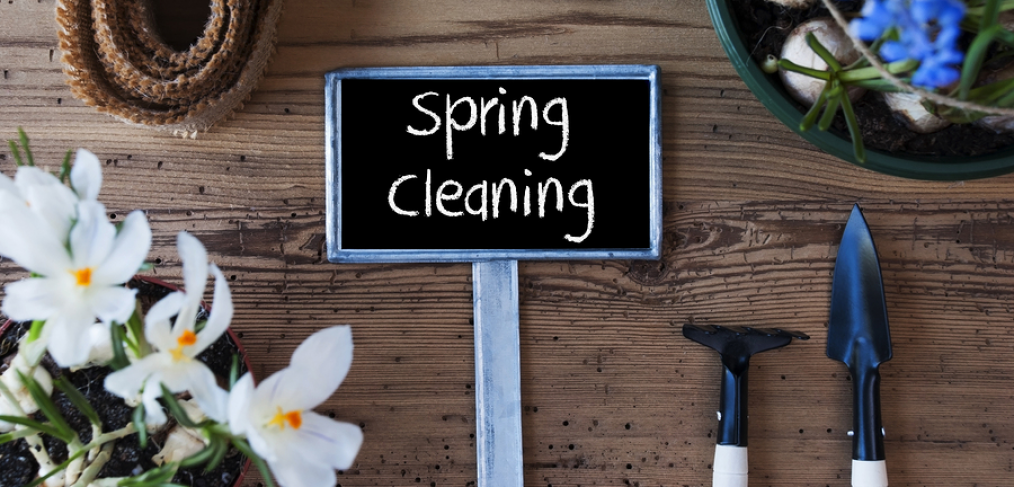 Top 10 Garden Spring Cleaning Tasks
Last updated: April 3, 2018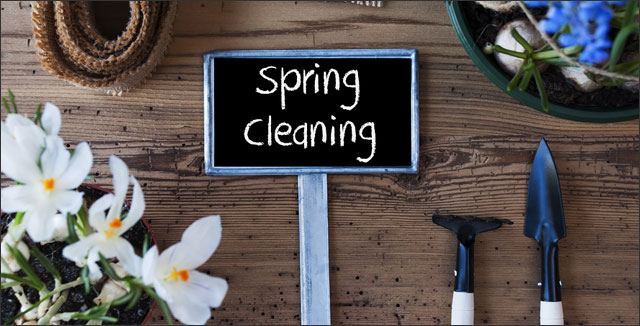 No doubt most of you are itching to be outside cleaning up your garden and getting to work on what you have planned for this year.
If you live in Michigan, you are probably looking glumly out the window at the snow swirling around outside right now. In addition, you may have looked at the 15-day forecast to see if any warm weather is on the horizon.
This time of year can be tough for everyone. It's technically spring. However, spring is nowhere to be seen. It will come fast, though, and when it does you can be ready to pounce on that nice weather and sunshine to make the most of it.
Here's a task list for helping your garden bounce back from winter.
Garden Spring Cleaning Tasks
Remove Debris
From trash blown in to fallen sticks and limbs to someone else's dog's business in your yard, there's no way around it. You have to clean up winter's dirty work.
Make sure you don heavy work gloves and buy an extra pair to wear after you throw the first ones in the wash. You will feel 10 times better just by doing this first job and your yard will look great too.
Rake
There are always leaves you can't get to after the end of fall and before the first snow hits. With a winter like this one has been, there were hardly any days to take care of late-season leaf falls in the middle of winter.
However, once the snow melts, it's your chance to get rid of those nasty piles of leaves clogging up your yard and probably the snow mold that went along with them.
If you are sensitive to mold, you might want to wear a mask for this part and bag up the leaves as soon as you can. Deep raking – even if you are on top of it and have no leaves leftover from fall – is great for your lawn. It controls thatch build-up and contributes to a healthier lawn all summer.
Prune Flower Beds
Now is the time to remove all those dead plants from last year. I love this part – when I know all that new growth is coming and all the dead stuff gets cleared away. Everything looks so nice when you are done.
Dead annual plants can be removed and composted – the self-seeders have already seeded. Your perennials are probably looking unsightly by now. Additionally, some of them will need the protection of the dead stalks and leaves until new growth begins to form.
Once the new growth starts at the bottom, it's safe to prune back your perennials. Remove winter mulch at the same time. Woody perennials will need to be pruned after the last chance of frost has passed.
Ornamental grasses can be safely cut back to the ground as soon as you want – they don't need to wait for new growth.
Prepare Vegetable Garden Beds
There are several ways to prepare vegetable garden beds at this time. The first of spring is too soon for many plants to be planted from seeds straight into the ground.
For that reason, start seedlings of tomato and pepper plants indoors in March, so they can be transplanted once the weather really warms up. There are many ways to do this, and tips for seedlings of different plants – which ones like to be germinated indoors vs. which ones like outside only (cold-hardy veggies).
As you are starting your seedlings indoors, prepare your beds by tilling, mixing in compost, covering with landscape cloth or even using a frame and covering with plastic to warm the soil before planting earlier than normal.
You will probably have some pruning or removing of dead vegetable matter, to do before you can do any of this. And if you are serious about growing a lot of vegetables, you will probably use several methods for starting your seeds.
Mulch
This element is going to depend greatly on what you are growing in a particular garden bed. Shrubs benefit greatly from landscape fabric and mulch to keep the weeds at bay.
However, if you are planning to plant new plants or to plant more densely to keep weeds down, you may want to stick with easy-to-remove straw or nothing at all until your plants get more established.
Weed & Compost
It's never too early to weed. Newly broken ground will attract weeds like crazy, so you will need to protect ground you can't plant right away with layers of newspaper, landscape fabric or plastic. Don't compost weeds.
Soil & Fertilizer
Spring is a great time to have your soil tested before you add anything to it. You can check it again if you amended in the fall.
Plants do like to be fed in the spring when they are growing full-tilt.  If you have good soil you probably don't need anything more than some compost or manure on the top.
Divide & Transplant
Once your plants start to emerge is the best time to divide and transplant any plants that need it. The sooner you get to this, the sooner the plant can recover from the process.
New Beds
You can use one of several methods for new planting beds:
Rototill the soil to break new ground.
Kill the grass with a plastic sheet or any smothering method to convert the area into planting ground.
Build a raised bed right on top of the grass.
Make sure to cover or mulch to discourage weed growth.
Trees & Shrubs
Spring blooming trees and shrubs bud in the late summer or early fall of the previous year, so if you prune them now, they won't bud as much and it could potentially damage the tree or shrub.
Wait until summer when they have bloomed to prune. Evergreen shrubs and trees shouldn't need much if you have good soil. They actively grow in the spring. Feed your evergreens every other year and tidy them up without compromising new growth.
Bonus Tip
To help your plants and shrubs thrive, install Root Starter Sticks. These root aeration tools should be placed directly into the ground to help your plants receive water directly to their roots.
If you are planning on planting new trees, installing Rootwell Pro-318s will helpful to help them flourish.
Takeaway
I bet you, like me, can't wait to do yard work again. Whatever the weather outside says right now, spring – and spring yard work – really is just around the corner!