Tips for Buying and Growing Easter Lilies
Last updated: May 25, 2021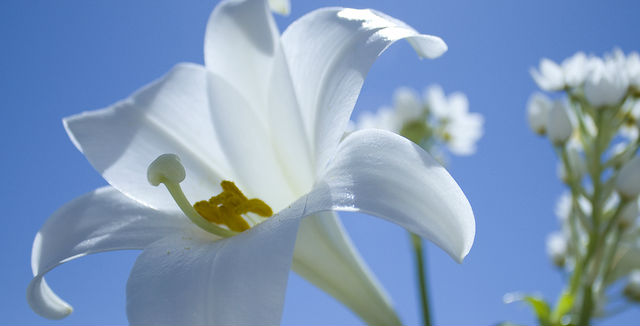 What flower comes to your mind when you think of the Easter holiday? If you are like most people, you might have mentioned the Easter Lily (Lilium longiflorum).  Chances are, you might be looking at buying this beautiful, white flowered plant with Easter around the corner.
Easter lilies have an amazing fragrance that might and bring back some sweet memories. In this post, we have pulled together some fun information about the history of Easter lilies, some helpful tips for buying Easter lilies, as well as tips for planting them in your own garden.

The History of the Easter Lily
The Easter lily has a rich history, and is mentioned throughout literature, history, art, and legends. Maybe the most popular mention is in the Christian New and Old Testament. According to an article by Heather de Kok in the Toronto Sun, the Easter lily has been a long lasting symbol of, "purity, hope, innocence, and peace." The author continues saying that the "Easter Lily is a biblical flower commonly associated with the resurrection of Christ."
According to Appleseeds.org, tradition is understood that beautiful white lilies were found growing in the garden of Gethsemane where Christ had wept before his final hours. Churches continued this tradition by surrounding their altars and crosses as a symbol of the resurrection.
The United States was first  exposed to this flower when a World War I soldiers bought home the first lily bulbs in is suitcase from Japan in 1919. The Easter lily is native to the southern islands of Japan, and Louis Houghton is given credit to bringing this infamous plant back to the United States. Houghton brought home the lily bulbs back with him to the southern coast of Oregon.
Houghton gave the bulbs away to friends when he returned. When the attack on Pearl Harbor happened in World War 2, the supply of bulbs was suddenly cut off. This led to a raise in the price of lily bulbs and made it a viable business for those individuals that originally grew lilies as a hobby. The flowers soon adapted the name "White Gold."
Tips When Choosing an Easter Lily
If you are planning on buying an Easter lily, chances are they have come from the "Easter Lily Capital of the World." This is a long stretch of a small group of growers located on the boarder of California and Oregon. According to Gardening.about.com, these growers make up to 95% of the 11 ½ million Easter lilies grown throughout the US.  Here are a helpful tips to ensure that you will make sure that you have a beautiful flower.
Choose a lily plant that the flowers are at different stages in their development. It is great to choose a plant that has both a flowering bud to a tight buds. This will help to make sure that you have a blooming flower for a longer amount of time.
Another tip for choosing a great Easter lily plant is to make sure that you choose foliage that is dense. You want to look for healthy, dark, green color and look for foliage that extends all the way down the stem to the bottom.
Check the plant to signs of disease and bugs. You can do this by looking on top and under the leaves. Look for eggs, webbing, and chewed leaves. Dark spots, wilting, and crinkling are other signs that disease and bugs might be present.
Look for the right size plant. To select this, you will want to make sure the plant is about twice the size of the pot. Plants that are bigger then this will be stressed and not do as well.
Tips for Growing Easter Lilies
When you gift an Easter lily plant, you can gift it for life. Easter lilies can be replanted into the ground for a beautiful surprise each spring. It is when they plant begins to die when you know that your Easter Lily is preparing itself for new life – bringing the symbolism back to the Easter resurrection.
Once your Easter lilies has faded, plan to plant it directly outdoors into your garden. With the right care, you can find yourself enjoying thriving lilies that will bloom the following Spring. Here are a few tips to prepare your plant for outdoor planting.
Pinch off the blooms when they fade from your plant.
Allow the foliage to die back naturally. This process will help to re-energize the bulb.
Plant your lily in the spring or the fall as those are the best times.
Water your plant. Even when you notice that your plant is beginning to die, keep watering it until you can plant it outside. This will help the lily bulbs from drying out.
When you have noticed that the plant has finally died and ready to be planted outdoors, trim off all the dead foliage.
Plant your lily bulbs about six inches deep in a well-drained soil and in a sunny spot.
Plant a Root Stick – When you are planting bulbs of any kind, planting a Root Stick will help to make sure the bulbs are receiving all the water and nutrients they need to surprise. A Root Stick works like a straw, allowing the water to penetrate deep into the root zone putting the water directly to where your plants need it most. A Root Stick is 10 inches' x 5/8 inches and are affordable and as they come in packs of 10. This allows you to place them all over your garden. Check Root Care Products to find out more Rootwell Product Inc's products that will help make your yard and garden thrive.
Wrapping Up
Easter lilies are beautiful flowers that has a rich history and deep symbolism. Their stunning white flowers and incredible fragrance make them great gift or welcomed house plant. With just a little bit of care, you can even add them to your garden to have your own Easter lilies come up each year. Make sure to follow our tips for selecting your plant and tips for planting your lily in your garden. You will be sure to have stunning flowers bloom for many years to come.